Traveling among 45 people, you've got to go with the flow.  Period.
I had, though, one thing in mind–if opportunity was to knock–right from the get go, …getting to "The Bathtub", Amserdam's Stedelijk contemporary art gallery.
I've been to Montreal's numerous times, to Manhattan's Guggenheim twice, and to the Hirshhorn in DC, all of them highlights of each trip. Our first night I looked up in Google Maps the location and getting inside seemed suddenly possible.  It was within the same block of an already scheduled stop: the Vincent Van Gogh gallery.  Our Amsterdam city day gets underway and opportunity indeed knocks loudly.  There is no way the whole group will get into Van Gogh.  Van gogh and Stedelijk are both free.  Stedelijk is close by.  Not only will I be going, but I will get to share the experience with a big portion of the group.
We enter The Bathtub after taking in its arcitecture and it's Tino Sehgal who gets me this time.  (At Hirshhorn it was Ai Weiwei.)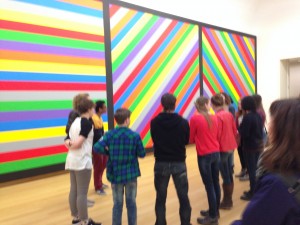 My colleague and I, like in this story (told better than I could), at the above pieces, are approached with an offer.  "This Is Exchange, a work by Tino Sehgal from 2002," he begins.  We both share our thoughts on the Market Economy and he interjects with questions.  As we are told from the onset we are offered 2€ each for our thoughts: the exchange.  Unlike the linked story we take our 2€; had I read it first, I may not have.  We get our 2€ by telling a codeword to the gallery's main ticketdesk.  Password told.  2€ collected.  I ask the cashier more about the work, and she answers.
The rest of our time at the museum amazing, too.  Steve McQueen. Warhol. Picasso.  Lichtenstein.  Performance pieces.  Students taking it all in wildly differently.
I keep my 2€ in a separate pocket quite tempted to keep it as a souvenir of the (quite unique) experience.
I'm thrilled about the whole endeavour.
Fast forward a few days to Paris.  And this, on the Champs-Élysées, the Citroen Showroom, a giant slide (only a portion shown here).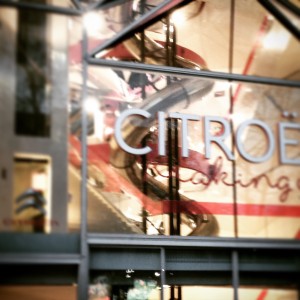 I hesitate.  Is it free?  No, it's 2€.  Do I have time?  Not really.  We're meeting, albeit right in front of the showroom, in 10 minutes.
Hmmm… I'm there.  I have 2€ (which I feel for in my pocket).  I have just enough time.  And a few students see me calculating and make the same calculation.  We go.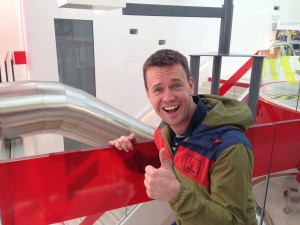 And just like that.  The 2€ from the free museum is upcycled into a slide and now a story.  An exchange.  And a fun one at that.
I got to The Bathtub.  I got down the slide–and dizzy from it.  And now reflect on Sehgal and exchanges and experiences and making it happen.  And not for 2€, for nothing at all.  Which is pretty hard to believe.  Full circle, Amsterdam connects to Paris and now to home.
Not a bad subplot to the whole experience.  At all.
[sidenote: I got into The Centre Pampidou after not getting to last trip to Paris in a neat free-time-coincidence, too.]