Oh the years and years of this blog.
But maybe here's a round where some reflecting makes some sense.
And probably best before the memories become too hazy.  And who knows.  Maybe someone is weighing whether or not to do a marathon, or even a Walt Disney World Marathon Weekend event.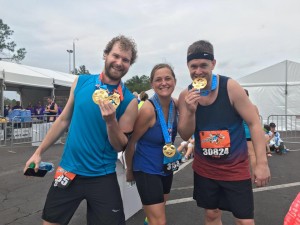 So.  I still can't believe I did it.  To the extent I have to think to myself, "Did it really happen?"  But it did. The medal and the zillions of Facebook posts prove that.
And in terms of any "Should I's" the answer is simple: yes.  Do it!  And learn from those who already have.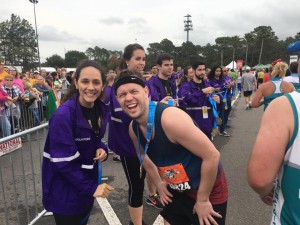 Without getting to deep, I'm proud: that I tried a first marathon, that I got some training in beforehand, and that I survived the whole endeavour. And that alone has made the whole adventure pretty cool.  It's nice to do something difficult and then to feel good about it afterwards.  TBH, I'm not a super natural runner (nor am I especially fast) BUT I can enjoy it.  And for me, that's enough.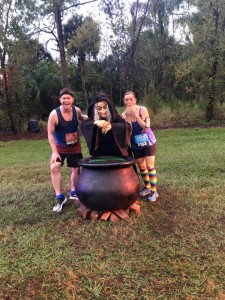 So.  The experience itself.  Maybe best split-up into: the goods, the bads, and the uglies.
The Good:
I'm a theme park fan.  And a Disney one too.  That's no secret.  This was my 4th trip to WDW.  I've also been to Disneyland once (as a kid) and to Disneyland Paris not so long ago.  For me, a RunDisney event was probably inevitable. While I'd kind of been-there-done-that with much of the park, this was a good chance to get a bit of the park in and see some of what is new with a bit of a bigger goal in mind.  Our big run was Sunday morning and we arrived late Thursday night.  This gave us a few days of adventures prior to the run, while cautious to not overdo it with any walking around or eating, etc.
The course was SUPER thoughtfully designed.  No crazy hills.  More excitement as the 26.2 miles went along.  Through 4 parks (Magic Kingdom first with the castle all light up for the night… I was thrilled I made it there by sunrise to see it that way, then Animal Kingdom at the 1/2 point where I hit a wee bit of an early wall., then Wide World of Sports where we could grab a photo with Mickey! where the crowds remained pretty much alongside some entertainment to Disney Studios–chocolate bar!–and then the Boardwalk to Epcot.  Water was generally after a park so that once things were less distracting, there was still something to look forward to.
Crowds. Were. Amazing.  I don't know what came over me but I high-fived probably every single person in the crowd.  haha.  I'm not really that sort of person normally.  But it took my mind of the monotony of running.  The volunteers were all super amazing too!  Big smiles!  Filled with encouragement.  Awesome!  I want to cheer and volunteer now too.  No lie.
Running with a partner-in-crime.  In this case, my cousin Layla.  I had never really done that before.  But it was so great to have some one to talk to, and scheme with, and to not feel so isolated because of.  We had a ton of fun.  I was the slower one in our duo, so I had to really confirm she was good with coaching me along but she was, and the coaching and the "push" was super appreciated.
The people were super cool.  Costumes.  Friendly faces to take a pic.  Quick little exchanges of exhausted faces or smiles or comments.  The track was PACKED but it really made the experience feel more exciting than frustrating.  Everyone there was there to have fun and get. it. done.
A gospel choir??!  I mean come on!  Right at Mile 26 before that little 0.2!  Awesome!  And a few other neat surprises.
How fun was wearing the medal afterwards?!  haha, we were like mini-celebrities!  Was great!  Now I need to figure out where to park mine.  It's pretty bulky and impressively designed, too!
The Bad:
No word of a lie.  The run starts at 5:30 and the complications of getting 20,000 people to the start on time meant that we'd have to be ON our bus at 4:00am to know we'd get there.  While this was no-lie nuts, it actually meant that 1/4 of the marathon was in the dark which was nice.
Training in the dead of winter and then going to a tropical place.  Really, just the training in winter.  We actually ended up doing most of our December training on tracks (the Olympic Oval and West Side rec).  This meant NO hills and NO excitement.  We lucked out because our run was actually cool.  Sun came out for the last bit but there was really no heat-shock, especially after adjusting to the humidity for a few days prior.
Shaking any pressures can be tough.  But I did it right away.  My one goal was to run the first half and go from there.  So I did.  After that half I did take walking breaks.  Obviously.  My time was 1.25h slower than double my half time.  I also took photo breaks the second half with characters and at landmarks.  At no point did I think I would not finish.  At some points I wished I could have gone faster or with more consistent running.  BUT.  That would have meant more consistent training.
The Ugly:
Honestly, no ugly.  haha, we did get scolded twice.  Once for running and visiting with two strangers for a bit (i.e. 30 seconds) as some ladies felt we were taking up too much space.  And one for posing for a photo our own way rather than the photographers way.
So.
I actually had a blast.  I was FILLED with adrenaline the whole day afterwards!  I couldn't walk but I was pumped (and by couldn't walk, I wasn't sore really but ULTRA stiff-muscled).
I actually think I have another marathon in me.   Maybe one late-summer to mid-fall so that training is more possible.  The first 1/3 I felt GREAT so how amazing would it be to train and sustain that.  Prior to this, I didn't really know if this would be a one-and-only or not.
I also kind of realized a bit what works for me.  I don't need my own water.  I can just count on the stations.  I know which little gels and jellies make me happy.  I learned where I crash a bit and what I can do to get past it all.
Two big blisters but nothing debilitating.  Prevented any other damage by planning ahead.
And so two halves in April!  Within a week!  But no Disney characters at them, because they're right here in Calgary.
Lifelist item box, checked!!  And a vacation surrounding the whole adventure.  5:15.28.  I'll take it.
And now want to get that down a little.  🙂